The time that Warren Buffett and Bill Gates used coupons at McDonalds
Warren Buffett's estimated net worth is currently $86.9 billion, making him the 3rd-richest person on Earth. Don't assume that he's ever let that wealth get in the way of a good deal. In Bill and Melinda Gates' 2017 annual letter, they refected on a notably value-oriented lunch which Warren Buffett once took Bill out on.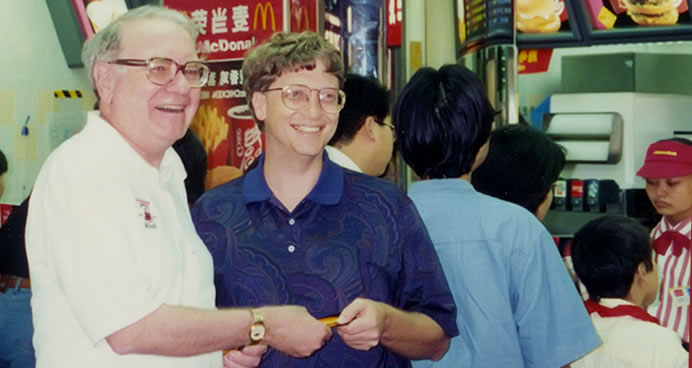 Bill writes: "Remember the laugh we had when we traveled together to Hong Kong and decided to get lunch at McDonald's? You offered to pay, dug into your pocket, and pulled out...coupons! Melinda just found this photo of me and "the big spender." It reminded us how much you value a good deal. That's why we want to point you to this number, 122 million. Saving children's lives is the best deal in philanthropy."
"My life couldn't be happier" says Buffett. "In fact, it'd be worse if I had six or eight houses. So, I have everything I need to have, and I don't need any more."
We can't all have Warren Buffett's investing prowess, but we can follow his example as a reminder of the good we can do when we maximize financial efficiency. It may not have been an efficient use of time for two of the world's richest men to use coupons to buy cheeseburgers, but it was worth it for the laugh, the story, and the good habits that the Oracle of Omaha has engrained over years of making the most of his money.