Bar accepts "Devil's Craft" anti-beer ad as a coupon
Sometimes when life gives you lemons, you should turn it into... well, beer. When a Baptist church in Canyon Texas printed a newspaper ad condemning the evils of beer and calling it "the Devil's Craft," one local bar had a genius idea. They started accepting the ad as a coupon.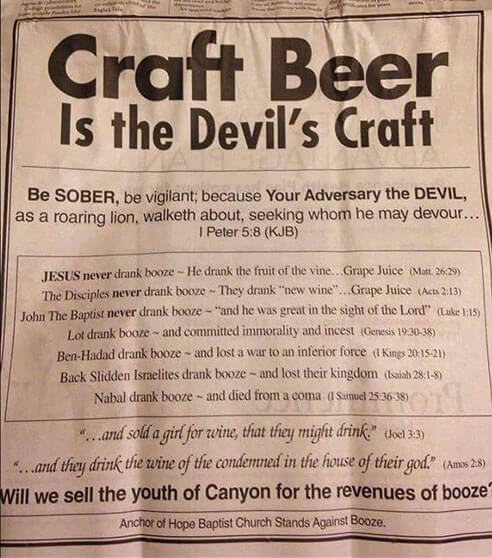 Imperial Taproom posted "We are offering a dollar off your bill at Imperial Taproom in exchange for this "Devil's Craft" coupon that was printed in the Canyon News on Sunday. We'll give you a dollar off for each one you bring in so feel free to bring multiple. Come enjoy some devilishly tasty craft beer and/or wine (grape juice with booze in it) with us! We'll see y'all at the Taproom, cheers!"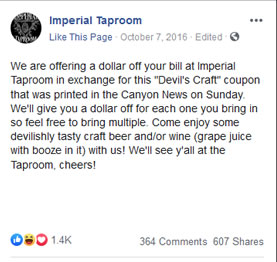 The taproom took a dollar off your bill if you brought in the "coupon." If that doesn't sound very generous, bear in mind that the offer was stackable, meaning customers could bring in multiple ads for more than a dollar off. Needless to say, the devil won this battle.
The church's ad cited many bible passages about how Jesus and his disciples never drank beer - only wine. But is that really fair? Hops weren't documented as being used in beer until the 9th century. Hildegard of Bingen notably used them three centuries later. We'd like to think that biblical attitudes would have been different had beer recipes been more perfected.